Office of the President of West Who
MESSAGE FROM THE PRESIDENT
Welcome to the West Who website here you will find everything you need to know about West Who - and there is not a doubt that West Who is one of the most unique micronations in the world. Learn about our history, unique culture, great food, art and heritage. Our history dates back to 1969, read about our great heroes and citizens who forged the way for West Who today. You will find information on this site about what makes West Who the modern, vibrant, happy nation it is today. As President, I encourage you to experience this site and find out what West Who is all about - and to have lots of fun along the way. After all being part of West Who is fun.

President Farr, Republic of West Who
Message from the Space Director
SPEA (the West Who Space and Planet Exploration Agency) works to develop and implement programs that foster collaboration between the Republic of West Who and other countries, organizations, and individuals to further our understanding and utilization of space. SPEA also works to develop educational programs and activities to increase awareness of space and planet exploration in the Republic of West Who. Through our efforts, the Republic of West Who can have a positive impact on the study of space in a global context.
Space Awareness, Earth Observation, Space Science and Exploration, and Satellite Communications
Follow SPEA on Twitter @ twitter.com/WestWhoSpace, also more information on MicroWiki at West Who Space Agency. Click here for more information about SPEA www.westwhospace.com
Director Kevin Farr
Message from the Minister of the Environment
We strive to ensure that West Who remains a vibrant, prosperous and productive country, while taking into account the neads of future generations and the environment. We have a range of initiatives and programs aimed at protecting and improving the environent and encouraging sustainable development.
We work with local communities, government and non-government organizations, and individuals to deliver these objectives:
These include: conservation and restoration of natural habitats and species; improving air, land and water quality; reducing the impact of climate change; promoting energy efficiency and renewable energy; reducing waste and pollution; promoting sustainable development; promoting public participation in environmental decision-making. We also work with partners to develop and implement effective environmental policies and regulations, and to raise public awareness of environmental issues.
Our purpose is to insure that the Republic of West Who is the most liveable place in the world.
Margaret Neiderer - Minister of the Environment
Message from the Chief Justice of the Supreme Court
Message about the West Who Supreme Court
The Supreme Court has a special role to play in the West Who system of government. The Basic Law gives it the power to check, if necessary, the actions of the President and the Senate.
It can tell a President that his actions are not allowed by the Basic Law. It can tell the Senate that a law it passed violated the Republic of West Who Basic Law and is, therefore, no longer a law. It can also tell the government of a region that one of its laws breaks a rule in the West Who Basic Law.
The Supreme Court is the final judge in all cases involving laws passed by the Senate and other government bodies. It alone interprets the highest law of all — the West Who Basic Law.
Chief Justice Chris Roberts
Interesting Information
Republic of West Who - A happy place for everyone
Since 1969 West Who has been an independent nation, with citizens living in over 55 nations around the world.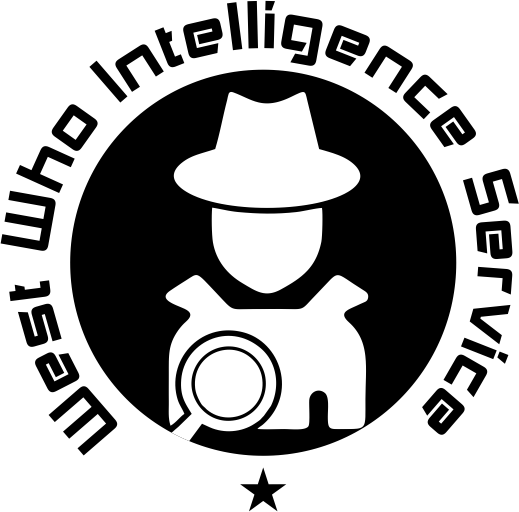 West Who Intelligence Service, the world's smallest spy agency. Check out the people who keep West Who safe. west-who-spy-agency.webnode.page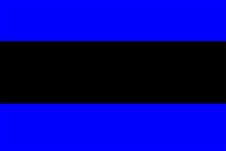 Check out the West Who Flag video on YouTube West Who National Anthem
Horton Hears a Who is the favorite reading book of West Who children.
MicroCon 2019 in Canada was attended by 44 micronations including West Who, check out the video of events MicroCon 2019

The West Who Space and Planet Exploration Agency - Can West Who put a person on the Moon? www.westwhospace.com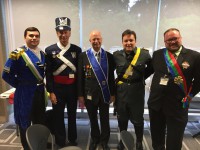 What is a micronation? Watch this HBO/Vice News story and find out. It features MicroCon 2017 an international summit of micronations, including West Who.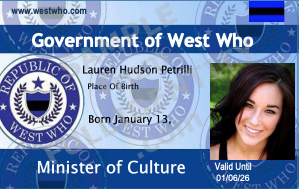 West Who ID cards are available to citizens for $35 US dollars or ($175 West Who dollars). Contact the Ministry of Citizen Affairs for more information.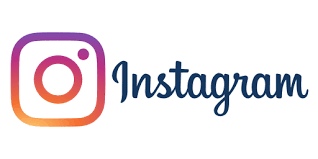 www.instagram.com/westwho/
Instagram West Who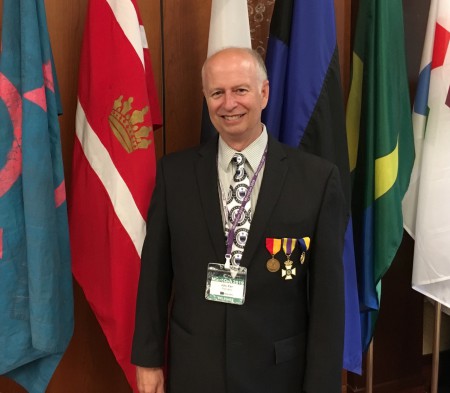 MicroCon 2019 former President Farr
Follow West Who on Twitter twitter.com/WhoGov
The Whoville News is a member of The Micronational Press Council which is responsible for promoting good standards of media practice, community access to information of public interest, and freedom of expression through micronational media.
Contact
Follow us on Twitter
Republic of West Who
is located in Denver, Colorado
Like us at Government of West Who on Facebook. It is an easy way to follow what is going on in our country.
WestWho.gov@gmail.com